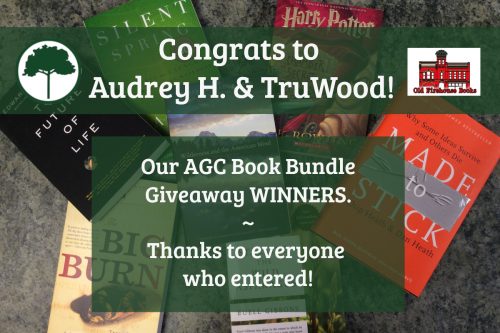 Want to know when we do another giveaway or have other AGC news to share? Then join our monthly newsletter mailing list by emailing hello@americangreenconsulting.com. You can also follow us on Facebook.
Thanks again to everyone who participated in our very first Book Bundle Giveaway!
---
About this Book Bundle Giveaway | June 3-10, 2020
American Green Consulting Group (AGC) is passionate about many things, including taking time to read a good book. Each AGC team member has hand-selected their favorite picks, and we have two book bundles we just can't wait to give away.
We're excited to share some of our favorite books with you—and also support a local bookseller, Old Firehouse Books, in the process.
Enter today and soon some of these classics could be on your very own bookshelf!
Giveaway details & legal stuff
What's in the Giveaway:
The AGC Book Bundle Giveaway includes two book bundles, each to be given to a different, randomly selected winner.
All books will be purchased and shipped through Old Firehouse Books. (Amazon links are for reference only.) Old Firehouse Books tries to order directly from the publisher whenever possible. Learn more about Old Firehouse Books below.
Book Bundle #1
Book Bundle #2
Terms & eligibility:
Anyone who can provide a domestic U.S. mailing address if they win the Giveaway is eligible to enter and win except AGC employees (and their progeny).
How to enter:
Giveaway entries will be accepted from Wednesday, June 3, 2020, at 12:01am (MST) through Wednesday, June 10, 2020, at 11:59pm (MST).
To enter the giveaway, simply email AGC at hello@americangreenconsulting.com or like one of the AGC Book Bundle Giveaway Facebook posts.
You will only be entered into the Giveaway once, no matter how many times you send an email or how many Facebook posts you like. Any duplicate email addresses or Facebook likes will be appreciated but will not grant you additional Giveaway entries.
The winners:
Two winners will be chosen at random on Tuesday, June 16, 2020.
We will contact the winner one of two ways:

via their email address.
via Facebook reply when they liked one of the Giveaway posts. In our reply, we will ask them to email us at hello@americangreenconsulting.com.

The winners will have three business days to respond. After that time, we will pick another winner—and so on until the two Giveaway prizes have been claimed.
Each book bundle will be ordered directly from Old Firehouse Books and shipped directly to the winner. We will ship the Giveaway prizes to domestic U.S. addresses only.
AGC will also announce the winners in our monthly newsletter and on Facebook. If you are the winner, you agree to allow us to use your full first name and last name initial in our announcements (or an alias of your own choosing). Unless you give us explicit permission, we will not tag you in our winners announcement on Facebook.
Facebook required stuff:
By entering this Giveaway, you completely release Facebook of, well, anything associated with this Giveaway.
AGC acknowledges that this Giveaway is in no way sponsored, endorsed, administered by or associated with Facebook.
About Old Firehouse Books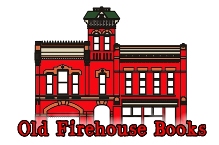 We are proud to partner with local bookseller Old Firehouse Books for our Book Bundle Giveaway! As we mentioned above, all the books in our Giveaway will be purchased and shipped through them and, whenever possible, Old Firehouse Books orders directly from the publisher.
If you'd like to support Old Firehouse Books, too, you can do so in a number of ways:
Donate to their GoFundMe campaign to help keep their store open.
Purchase books and gift cards from them online. (You can find full details on their COVID-19 procedures on their website.)
We respect your privacy.
Rest assured that your email address and Facebook handles will only be used for this Giveaway and not for anything else.
If you'd like more AGC fun, however, sign up for our monthly newsletter by emailing us at hello@americangreenconsulting.com. And be sure to follow us on Facebook.
Now go enter the Giveaway, and good luck!